As at the end of 2014, the actual headcount of Vnesheconombank was 2,095, which is 140 employees less than in the previous reporting period. The actual headcount in the Group's entities declined by 737 employees from 14,572 employees in 2013 to 13,835 employees in 2014. Vnesheconombank Group's personnel structure did not change year-on-year. There was an insignificant predominance of women across the Group in general, including Vnesheconombank. Most employees of Vnesheconombank and the Group's entities are persons aged between 30 and 50 years.
The Bank and the Group's organisations regularly invite master and other programme students and postgraduates of major financial higher education institutions for traineeships and internships in its units to build a pool of young talented professionals. The best of them are offered an opportunity to join the team of Vnesheconombank and the Group's organisations on a permanent basis. A total of 28 young professionals out of those who had previously completed internships were employed by the Group in general in 2014.
A breakdown of Vnesheconombank Group's personnel by type of employment, type of agreement, category of employees and gender is given in Appendix 2, and personnel turnover data, in Appendix 3.
Breakdown of the personnel of Vnesheconombank and the Group's entities by gender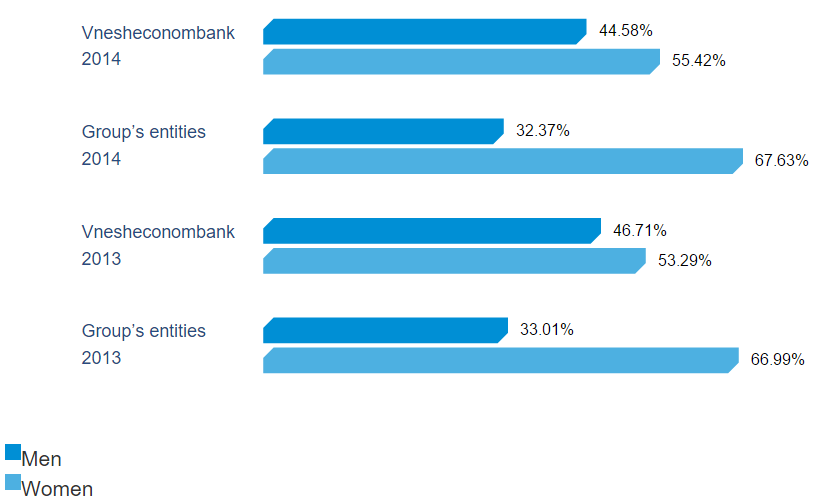 Breakdown of the personnel of Vnesheconombank by age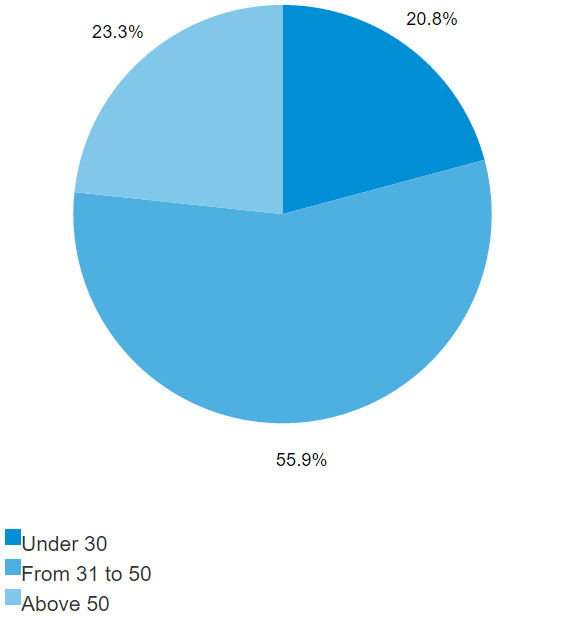 Breakdown of the personnel of Vnesheconombank Group's entities by age